Race Report: Unadilla – Musquin makes it three in row!
NEW BERLIN, NY. (August 12, 2017) – The 2017 Lucas Oil Pro Motocross Championship, sanctioned by AMA Pro Racing, returned to action following its final break of the season for the Unadilla National from Unadilla Motocross Park. The tenth round of the season featured heavy rain and thunder storms that led to race officials shortening the second motos to 20-minutes-plus-one-lap. Red Bull KTM's Marvin Musquin raced to a perfect day and kept his win streak alive, which now sits at three. In the 250 Class GEICO Honda's Jeremy Martin emerged victorious to claim his second win of the season.
Musquin captured his third straight 1-1 sweep for his fourth victory of the season.MX Sports Pro Racing / Jeff Kardas
As the opening 450 Class moto powered down the start straight, it was RCH/Yoshimura/Suzuki Factory Racing's Matt Bisceglia who emerged with the Motosport.com Holeshot, narrowly edging out teammate Justin Bogle and HRC Honda's Christian Craig. Musquin immediately went to work and muscled his way by Craig part way through the opening lap and was under heavy pressure from RMATV/MC-WPS-KTM's Blake Baggett. At the completion of the opening lap it was Bisceglia, Bogle and Musquin who led the 40-rider field.
On Lap 1, the battle for the lead had already began to shape up with Bisceglia riding strong out front and Bogle and Musquin just behind. Musquin blitzed his way around Bogle to takeover second and backed that up with a pass on Bisceglia for the lead just a couple of turns later. Bogle put forward his best effort to keep Musquin in sight and made the move for second as he overtook Bisceglia on Lap 2. Bisceglia continued to fight for position, but remained under heavy pressure and would surrender third to Baggett just before the start of the next lap.
With Musquin riding effortlessly out front, the rain began to come down, continuing to increase and make the conditions more challenging with each lap. On Lap 8, Baggett found himself turning the quickest times of the field and started nipping at the heels of race leader Musquin. The KTM duo pulled alongside one another several times, however, Musquin successfully defended each pass attempt Baggett threw at him.
Despite the torrential downpour that ensued, Musquin and Baggett continued the bar-to-bar battle for the lead. As lightning began to touchdown nearby, race officials made the decision to call the race at the 27-minute mark instead of the traditional 30-minutes-plus-two-laps. Musquin was credited with his fifth consecutive moto win, followed by Baggett in second. HRC Honda's Cole Seely took advantage of a mistake by Bogle on the final lap to take third.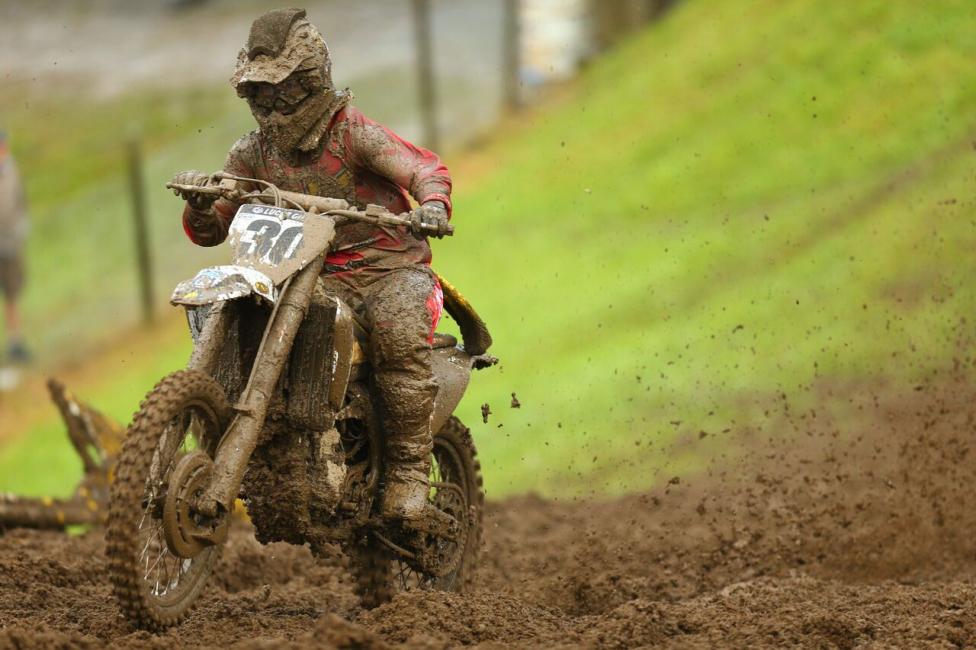 Unadilla marked back-to-back podiums for 450 Class rookie Davalos. MX Sports Pro Racing / Jeff Kardas
When the gate dropped on Moto 2 it was Musquin who led the field around the opening corner to take his fifth Motosport.com Holeshot of the season with Rockstar Energy Husqvarna Factory Racing rider Dean Wilson and Craig in tow. Following his podium finish last round, Rockstar Energy Husqvarna Factory Racing's Martin Davalos was on a mission and made his way around Craig and Wilson to takeover second. At the completion of the opening lap it was Musquin, Davalos, and Wilson.
Championship contenders Baggett and Tomac started the race in sixth and eighth positions, but it wasn't long until disaster struck Baggett and forced him to pull into the mechanics area. He would rejoin the race nearly dead last.
At the front of the field Musquin made an attempt to break away, but Davalos refused to settle and kept the leader within sight. Just when Davalos appeared to be making a run for the lead, Musquin wicked it up to pull back out on the Husqvarna rider. Wilson continued to ride strong in third and eventually found himself under pressure from Monster Energy/Yamalube/Chaparral/Yamaha Financial Services/Yamaha Factory Racing's Cooper Webb. On Lap 7, Webb dove to the inside of Wilson to take his line away and moved into third.
Musquin remained unchallenged during the final laps by taking the win 9.8 seconds ahead of Davalos. The final step of the podium went to Webb who rode impressive in his return from injury.
Musquin's perfect day propelled him to his fourth career overall victory (1-1) and his moto win streak now sits at six. The strong second moto helped Davalos finish second overall (8-2) and capture his second career 450 Class podium. Seely finished third overall (6-3), resulting in his first podium of the season.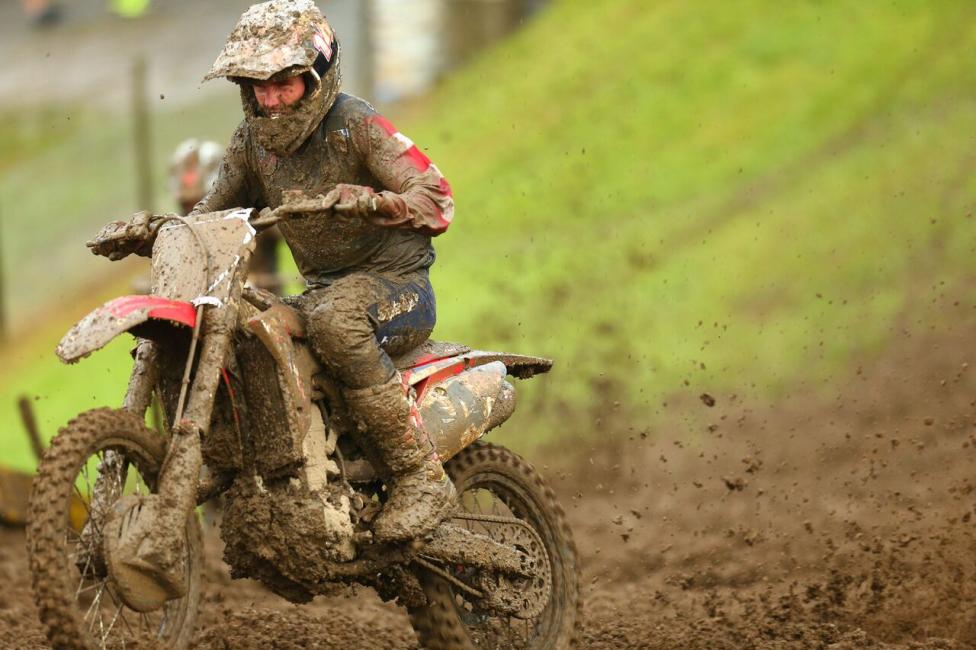 Seely emerged with his first overall podium of the season in third (6-3).MX Sports Pro Racing / Jeff Kardas
"The goal right now is to try and gain points each weekend," said Musquin. "Today turned out to be great for me and not so great for some others. Anything can happen on a day like today and I just have to keep doing my best and we will see what happens. My goal is to at least finish the season second in points."
Tomac remains in control of the championship lead by 27-points despite finishing ninth overall on the day. Baggett continues to sit second, while Musquin gained valuable points on both of his rivals and now trails Baggett by just four points.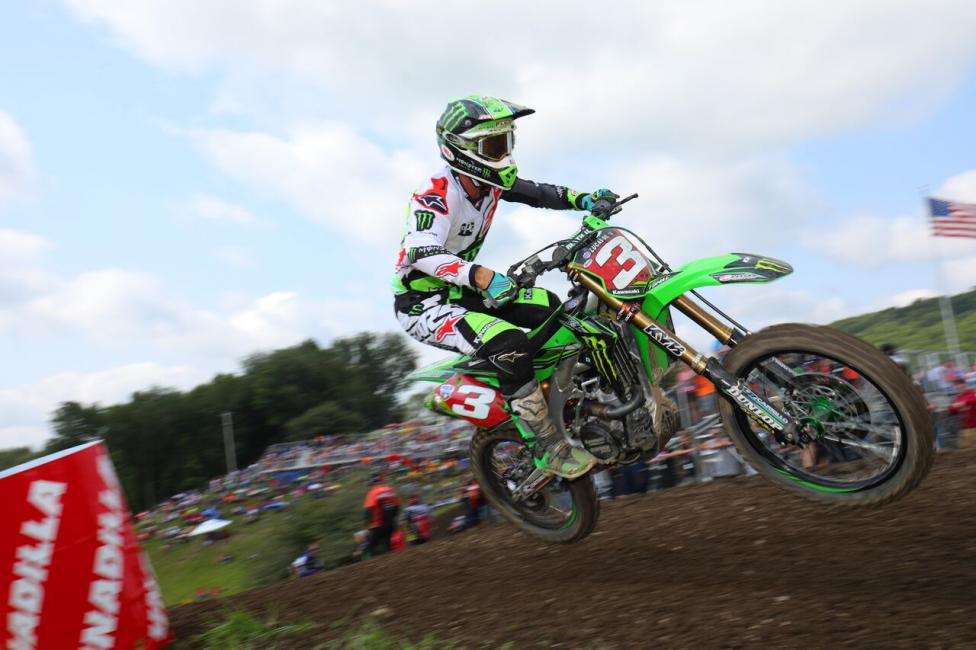 It was an eventful day for Tomac who holds a 27-point championship advantage.MX Sports Pro Racing / Jeff Kardas
"I've been wanting to ride the big bike for almost four years and it feels so good to be up here on the podium," said Davalos. "The 450 Class is totally different than the 250's. The bike requires a lot more strength and I finally feel like I have made enough progress that I can hold on and run with the top guys for a full moto. This sport is about confidence and to run up front, be smart, and learn each weekend is what I'm trying to do. The track was gnarly today and it would have been insane if they didn't cut the races to 20-minutes."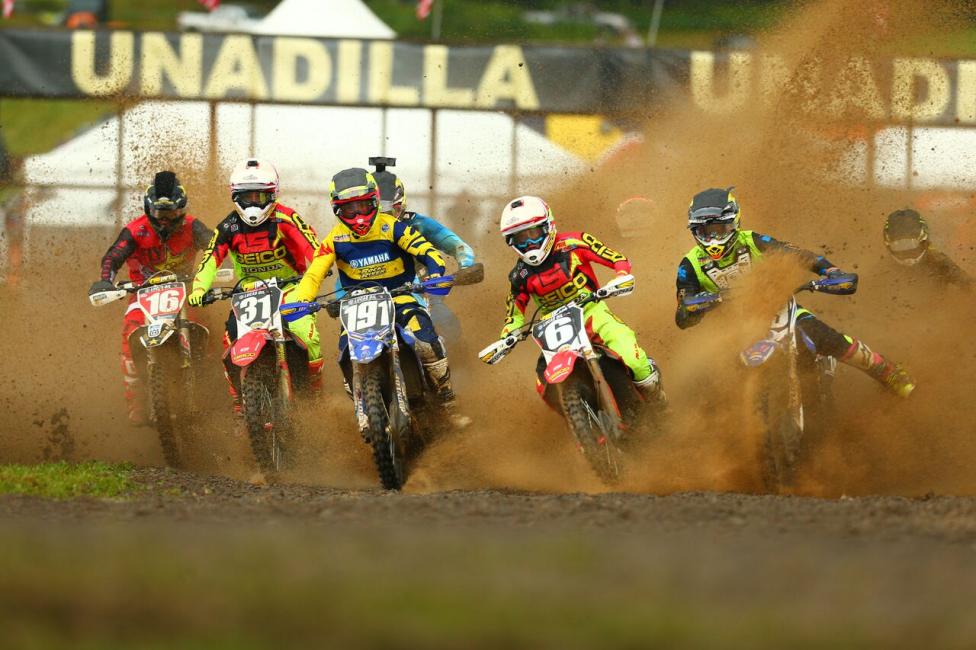 Martin (6) took the holeshot in Moto 2 and the overall victory (2-1) on the day.
– MX Sports Pro Racing / Jeff Kardas
The first 250 Class moto saw Monster Energy/Pro Circuit/Kawasaki's Adam Cianciarulo race to his second Motosport.com Holeshot of the season just ahead of teammate Joey Savatgy and Adventure Moto KTM's Steven Clarke. Yamalube/Star Racing Yamaha's Aaron Plessinger made quick work of Clarke to overtake third. At the completion of the opening lap it was Cianciarulo, Savatgy, and Plessinger at the head of the field, while championship points leader Zach Osborne was listed in seventh aboard his Rockstar Energy Husqvarna Factory Racing Machine.
With a clear track out front, Cianciarulo began to open a small gap as Savatgy and Plessinger battled each other. Plessinger moved onto the rear wheel of Savatgy and started to look for a way around, however, Savatgy would fend off the Yamaha rider and pick up the pace. On Lap 2, Savatgy began to reel in race leader Cianciarulo with his sights set on the number one position.
The Kawasaki duo of Cianciarulo and Savatgy continued their blistering pace at the front of the field and started to distance themselves from their nearest competitor. GEICO Honda's Jeremy Martin began to creep into the picture on Lap 5 and moved to within striking distance of Plessinger, eventually making the pass stick for third near the end of the lap. On Lap 7, Cianciarulo made a costly mistake as he lost the front end and tipped over in a turn, allowing Savatgy to inherit the lead and moving Martin into second. Cianciarulo would remount in third.
Savatgy clicked off consistent laps to build a comfortable lead by the halfway point of the moto, but Martin put his head down and was determined to bridge the gap that separated him from Savatgy. With the race winding down, Osborne began to hit his stride as he put in a late race charge and used an aggressive move to overtake Cianciarulo for third on Lap 14.
Savatgy pushed hard until the final lap and claimed his fourth moto win of the season, 3.2 seconds ahead of the hard charging Martin in second. Osborne took the final podium spot with a brilliant come-from-behind effort.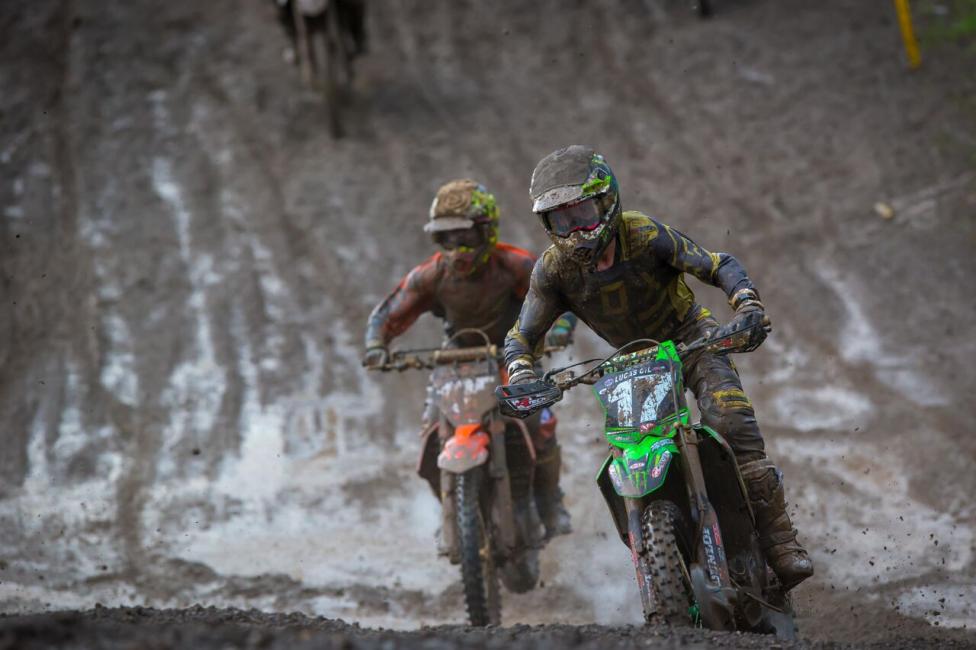 Savatgy charged to second overall (1-4) and stood on the podium for the third straight week.
– MX Sports Pro Racing / Rich Shepherd
As the 250 Class launched out of the gate to start Moto 2 it was Martin who secured his class leading sixth Motosport.com Holeshot of the season, just ahead of Yamalube/Star Racing Yamaha teammates Justin Cooper and Dylan Ferrandis. With vision being crucial due to the muddy conditions, Plessinger wasted no time passing Ferrandis for the third spot. When the riders completed the opening lap it was Martin, Cooper, and Plessinger out front, while Osborne got off to mediocre start in ninth.
The wet conditions looked to be no problem for Martin as he splashed his way around out front and started to open a small lead on Cooper and Plessinger. On Lap 3, Plessinger started to pickup the pace and moved to within bike lengths of Cooper, but a small mistake watched him hit the ground and GEICO Honda's RJ Hampshire slid into third.
Each time that Martin appeared to be increasing his lead, Cooper would mount an attack that helped him keep the gap within seconds throughout most of the race. On Lap 4, Hampshire made a bobble that allowed Ferrandis by and into third.
Martin crossed the checkered flag to capture his fourth moto win of the season with a 4.8 second advantage on Cooper who finished second in his professional debut. Ferrandis rode well to his fourth moto podium finish of the season in third.
Osborne sits atop the championship standings by 63-points with just two rounds remaining.
– MX Sports Pro Racing / Jeff Kardas
The 2-1 moto scores by Martin were good enough to secure his thirteenth career overall victory. Savatgy finished second (1-4) to earn his third consecutive overall podium, while Osborne rounded out the podium in third (3-5).
"It was a complete mudder today and fortunately I was at the right place at the right time," said Martin. "I felt pretty good all day today and once the rain started to come down I just tried to go into the second moto with a positive attitude, which I think is key. I was able to tune my bike a little bit better over the last couple of weeks and I think that it definitely helped today."
Osborne continues to hold the red plate and a commanding 63-point lead over Martin with just two rounds remaining in the championship. Savatgy's recent string of podium performance moved him into third in the standings, 26-points behind second place.
"Today ended up being pure survival and I did my best to salvage points," said Osborne. "Starts are super important on a day like today and I just didn't have them. I was able to come through for a podium in the first moto, but the mud made it a lot tougher to make passes in the second moto. Overall I was able to make the most of it and I'm looking forward to the last two."
The 2017 Lucas Oil Pro Motocross Championship will continue next weekend with the penultimate round of the season at Budds Creek Motocross Park in Mechanicsville, Maryland on August 19th. First motos of the GEICO Motorcycle Budds Creek National can be seen live on MAVTV at 10 p.m. PT / 1 p.m. ET. The second 450 moto will be live on NBC at 12 p.m. PT / 3 p.m. ET, while the second 250 moto will air via tape delay on NBC Sports Network at 4 p.m. PT / 7 p.m. ET.
Words: MX Sports
Results
Lucas Oil Pro Motocross Championship
Unadilla National
Unadilla MX – New Berlin, New York
August 12, 2017
450 Class Overall Results (Moto Finish)
Marvin Musquin, La Reole, France, KTM (1-1)
Martin Davalos, Quito, Ecuador, Husqvarna (8-2)
Cole Seely, Newbury Park, Calif., Honda (3-6)
Cooper Webb, Newport, N.C., Yamaha (7-3)
Blake Baggett, Grand Terrace, Calif., KTM (2-11)
Dean Wilson, Glasgow, Scotland, Husqvarna (9-4)
Justin Bogle, Cushing, Okla., Suzuki (4-10)
Christian Craig, El Cajon, Calif., Honda (5-9)
Eli Tomac, Cortez, Colo., Kawasaki (10-5)
Benny Bloss, Oak Grove, MO, KTM (15-8)
450 Class Championship Standings
Eli Tomac, Cortez, Colo., Kawasaki – 400
Blake Baggett, Grand Terrace, Calif., KTM – 373
Marvin Musquin, La Reole, France, KTM – 369
Dean Wilson, Glasgow, Scotland, Husqvarna – 299
Cole Seely, Newbury Park, Calif., Honda – 263
Martin Davalos, Quito, Ecuador, Husqvarna – 243
Justin Bogle, Cushing, Okla., Suzuki – 241
Jason Anderson, Edgewood, N.M., Husqvarna – 216
Weston Peick, Wildomar, Calif., Suzuki – 213
Cooper Webb, Newport, N.C., Yamaha – 211
250 Class Overall Results (Moto Finish)
Jeremy Martin, Millville, Minn., Honda (2-1)
Joey Savatgy, Thomasville, Ga., Kawasaki (1-4)
Zach Osborne, Abingdon, Va., Husqvarna (3-5)
Dylan Ferrandis, Avignon, France, Yamaha (6-3)
Justin Cooper, Cold Spring Harbor, NY, Yamaha (12-2)
Adam Cianciarulo, Port Orange, Fla., Kawasaki (5-6)
Aaron Plessinger, Hamilton, Ohio, Yamaha (4-10)
RJ Hampshire, Hudson, Fla., Honda (8-7)
Chase Sexton, La Moille, Ill., Honda (7-12)
Colt Nichols, Muskogee, Okla., Yamaha (11-9)
250 Class Championship Standings
Zach Osborne, Abingdon, Va., Husqvarna – 413
Jeremy Martin, Millville, Minn., Honda – 350
Joey Savatgy, Thomasville, Ga., Kawasaki – 324
Dylan Ferrandis, Avignon, France, Yamaha – 299
Alex Martin, Millville, Minn., KTM – 296
Aaron Plessinger, Hamilton, Ohio, Yamaha – 285
Adam Cianciarulo, Port Orange, Fla., Kawasaki – 283
Colt Nichols, Muskogee, Okla., Yamaha – 235
Mitchell Harrison, Brighton, Mich., Yamaha – 229
Shane McElrath, Canton, N.C., KTM – 210