Race Report: Budds Creek – Osborne is crowned US 250 National champ!
MECHANICSVILLE, MD. (August 19, 2017) – The first of two 2017 championships were handed out on Saturday afternoon at Budds Creek Motocross Park, as the Lucas Oil Pro Motocross Championship, sanctioned by AMA Pro Racing, made its annual visit to Southern Maryland for the GEICO Motorcycle Budds Creek National. Rockstar Energy Husqvarna Factory Racing's Zach Osborne entered the penultimate round of the season with an opportunity to clinch his first career title, and he successfully hoisted the Gary Jones Cup for the 250 Class following a runner-up effort at the same track where he broke through for his maiden victory one year prior. His championship-winning effort also provided the first motocross title for the Husqvarna brand.
The day of firsts continued in the battle for victory for each respective class. An unpredictable afternoon of competition in the 450 Class saw RCH/Yoshimura/Suzuki Factory Racing's Justin Bogle rely on unmatched consistency to emerge with his first career overall win, while Monster Energy/Pro Circuit/Kawasaki's Adam Cianciarulo broke through for his debut victory in the 250 Class.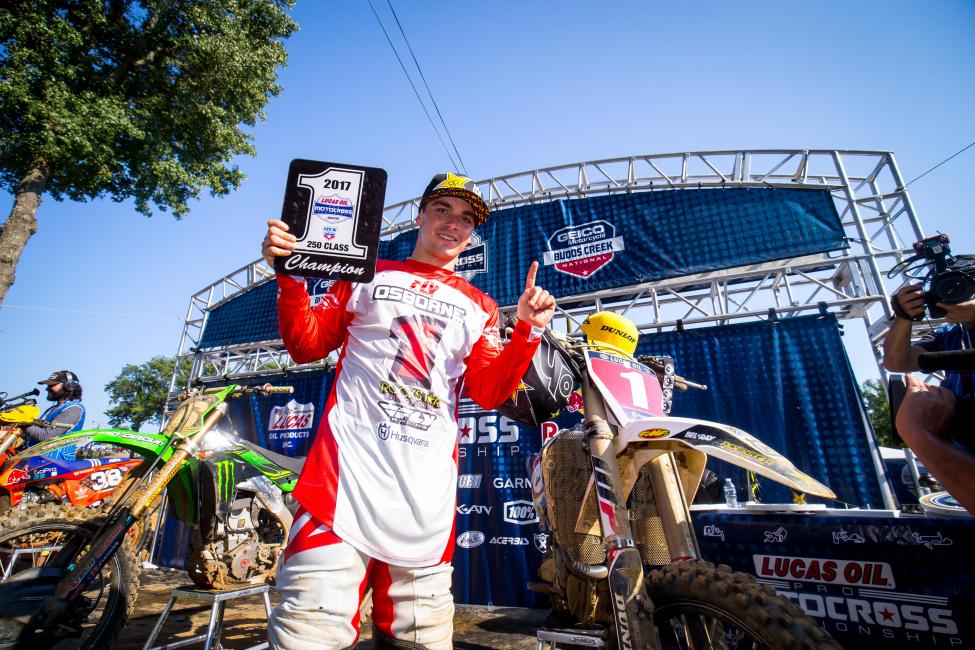 Osborne is the 2017 Lucas Oil Pro Motocross 250 Class Champion, clinching the Gary Jones Cup at Budds Creek.
– MX Sports Pro Racing / Rich Shepherd
As the opening 450 Class moto roared down the start straight it was RCH/Yoshimura/Suzuki Factory Racing's Matt Bisceglia who came away with the Motosport.com Holeshot, with Rockstar Energy Husqvarna Factory Racing's Martin Davalos and Bogle in tow. Davalos and Bogle quickly took control of the top two positions on the opening lap, shifting Bisceglia back to third. Championship points leader Eli Tomac found himself outside the top-10 in 12th on the opening lap aboard his Monster Energy Kawasaki machine, chasing both Team Red Bull KTM Factory Racing's Marvin Musquin and RMATV/MC-WPS-KTM's Blake Baggett, his primary rivals in the title fight.
Davalos and Bogle set a quick pace at the front of the field and started to distance themselves from the competition, while Team Honda HRC's Cole Seely battled his way past Bisceglia into third. On Lap 3, Davalos bobbled, which allowed Bogle to take advantage and move into the race lead. With a clear track ahead, Bogle dropped the hammer as Davalos gave chase. However, the 450 Class rookie began to lose touch with the Suzuki rider.
With Bogle continued to push hard at the front of the 40-rider field, Davalos asserted himself into second, but all eyes were on Musquin, who was clocking the fastest laps of the race in an attempt to track down the leaders after starting seventh. On Lap 9, the Frenchman, winner of three straight entering Budds Creek, closed in on Seely and applied pressure on Seely for third, eventually making the pass stick before the end of the lap. Musquin's surge forward continued as he soon moved onto the rear fender of Davalos for second, successfully taking over the runner-up spot on Lap 12.
As the 30-minute-plus-two-lap moto began to reach its final stages, Bogle found himself under attack from Musquin, who erased a double-digit deficit in the closing minutes to put himself in a position to win his seventh consecutive moto. Lapped traffic aided Musquin's efforts to close in on Bogle, but the Suzuki rider was able to pick up his pace and fend off the attack. Mere bike lengths separated the two over the course of the final two laps.
In the end, Bogle held on to take the checkered flag and capture his second moto win of the season by less than a second over Musquin. Third went to Davalos, who earned his third moto podium of the season. Seely was fourth, with Baggett in fifth and Tomac fighting his way through the field to finish seventh.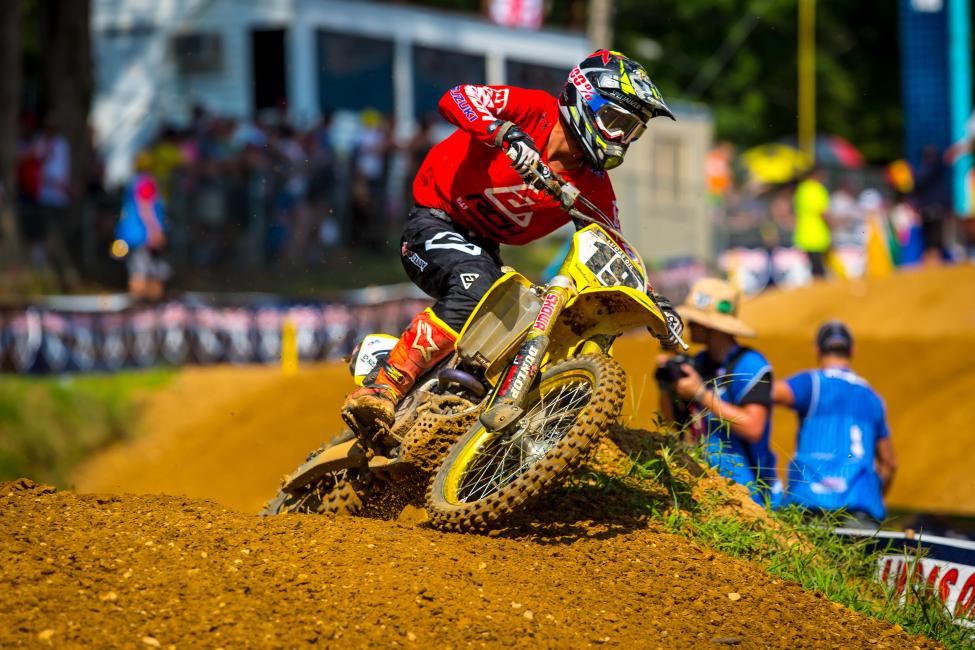 Bogle broke through in the 450 Class for his first career victory, which was also his podium debut.
– MX Sports Pro Racing / Rich Shepherd
When the gate dropped for Moto 2, it was Bisceglia who once again put his Suzuki out front, sweeping the Motosport.com Holeshots for the day just ahead of Bogle and Baggett. At the beginning of the opening lap, the freight train of Bogle, Baggett, and Autotrader/Monster Energy/Suzuki/JGRMX's Weston Peick all made their way around Bisceglia to control the assume control of the top three positions.
With another clear track ahead of him, Bogle attempt to breakaway yet again, however, Baggett battled hard to keep him within striking distance. Tomac, who started fifth, was the fastest rider on the track early on, which allowed him to make his way around Peick to take over third on Lap 3. As this occurred, Baggett began to hit his stride and closed onto the rear fender of Bogle before making the pass stick for the lead on Lap 4.
Baggett pushed hard once out front, but Bogle maintained the deficit while Tomac continued his push to catch the leaders. Tomac took advantage of an incredible drive through the track's rollers and made the pass on Bogle for second as they crossed the finish to start Lap 5. Tomac's relentless pursuit of the lead wasn't done yet, as he forced his way around Baggett to seize control of the race lead on Lap 6.
Tomac appeared unstoppable as he immediately broke away from the competition, however, a big mistake on Lap 7 allowed Baggett and Bogle to close back in. As Baggett gave chase he too made a mistake that sent him off of the track and left Bogle on his rear fender in the fight for second.
Tomac successfully pulled away from the competition yet again to take his ninth moto win of the season, with a 7.4 second advantage over Baggett in second. Bogle fought hard until the final lap to finish third. After an eighth-place start, Musquin was unable to factor into the battle at the front of the field and was forced to settle for fourth.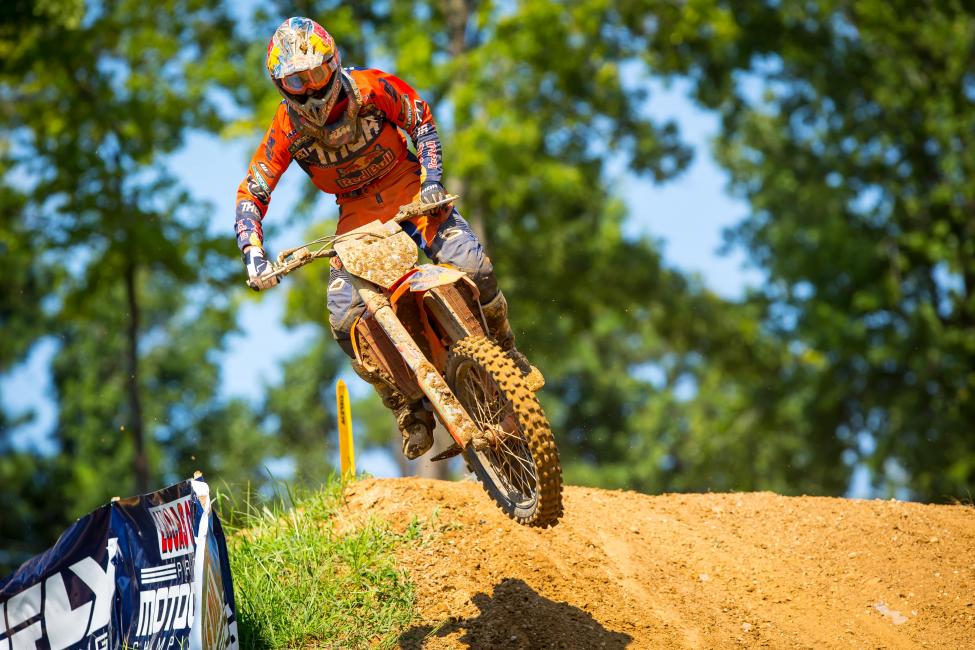 Musquin saw his three-race winning streak come to an end with a runner-up finish.
– MX Sports Pro Racing / Rich Shepherd
Bogle's consistency, combined with the weight of a moto win, guided him to his first overall victory in the Lucas Oil Pro Motocross Championship (1-3) in his 21st start in the premier class. He became the 67th different 450 Class winner in series history. It was also Bogle's first career 450 Class podium, with his previous best result of fourth coming at Round 3 from Thunder Valley, where he took his first ever moto win.
"It was an incredible feeling to get a win," said Bogle. "This is my first career podium in the 450 Class and to make it a win is pretty unreal. My starts were awesome today and that was really important since the track was very difficult to make passes on. I've been putting in a lot of work this summer and its been frustrating when the results aren't there every week. Today the hard work paid off, and I'm looking forward to carrying the momentum into our final round."
Bogle's triumph was also the first for RCH/Yoshimura/Suzuki Factory Racing team this season. The Ricky Carmichael and Carey Hart led effort is the defending 450 Class Champions following Ken Roczen's dominant season last summer and recently announced they will cease operations at the conclusion of the season.
Musquin's 2-4 moto scores ended his winning streak, but still were good enough for second overall. Tomac rebounded from a tough first moto to grab the final spot on the podium in third (7-1).
"I was starting to lose my mind before the second moto today," said Tomac. "I had three motos in a row that were really difficult and I found out that going into protective and safe mode is not the way to go. I got bumped around on the start in the first moto today and a seventh was all that I was able to make happen. In the second moto I finally felt like I got myself together and regrouped, which was a relief to put myself back on top. Hopefully we can go get this thing done [clinch the championshio] next weekend."
Tomac's lead in the 450 Class standing entering next weekend's final round sits at 28-points over Baggett, who finished fourth overall (5-2), while Musquin sits third, just two points behind Baggett and 30 markers back from Tomac. The Kawasaki rider will need to earn at least 22 points at the final round in order to clinch his first premier class title, which could be accomplished with a runner-up finish or better in the opening moto.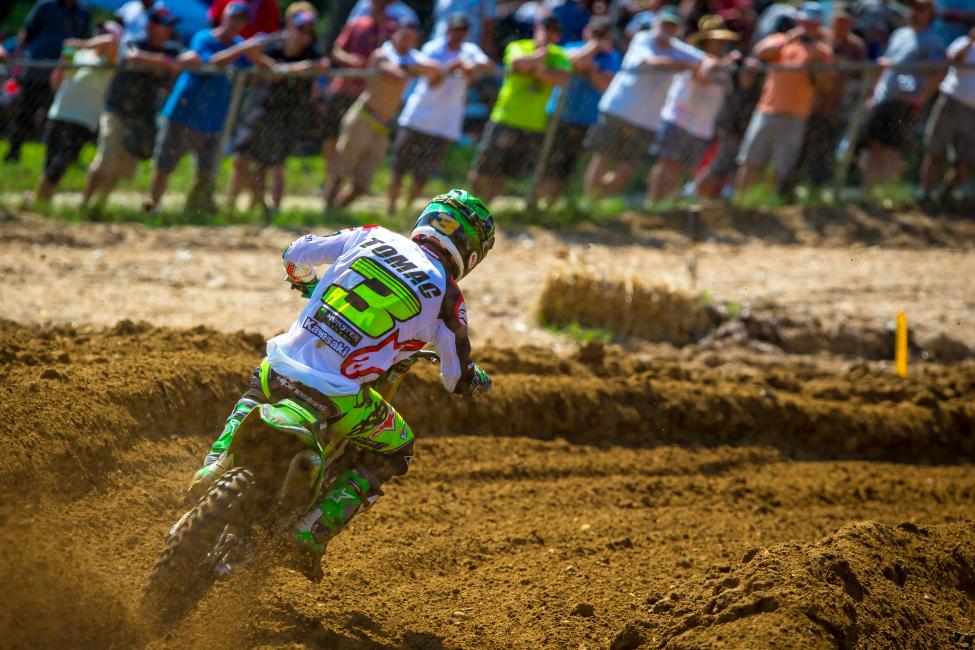 Tomac's third-place finish puts him in reach of his first 450 Class title next weekend.
– MX Sports Pro Racing / Rich Shepherd
The first 250 Class moto saw Cianciarulo race to his third Motosport.com Holeshot of the season, just ahead of the GEICO Honda duo of Jeremy Martin and RJ Hampshire. Osborne's hopes of clinching the title were almost dashed instantly after he found himself on the ground, involved in a major first turn pileup that include several riders. The Husqvarna rider was fortunate to avoid damage and reentered the race, ultimately credited with 26th at the completion of the opening lap.
As has been the case several times in his career, Cianciarulo displayed incredible speed out front and opened a small cushion on Martin, who was being stalked by his teammate. On Lap 7, the Honda duo's continued pursuit allowed them to close the gap on Cianciarulo. However, each time Martin got close enough to mount a challenge Cianciarulo would respond by stretching his lead back out again.
The lone representative of the legendary Monster Energy/Pro Circuit/Kawasaki effort refused to surrender the lead, and was able to pick up the pace on Lap 10 an pull away from both Martin and Hampshire. Cianciarulo continued to extend his lead over the next several laps, while Hampshire remained within striking distance of Martin.
Cianciarulo led wire-to-wire to break through for the first moto win of his career, crossing the finish 6.2 seconds ahead of Martin in second. Hampshire finished in a close third for his second moto podium of the season. Troy Lee Designs/Red Bull/KTM's Shane McElrath was fourth, followed by Yamalube/Star Racing Yamaha's Aaron Plessinger in fifth. Osborne put forth an impressively resilient ride to finish eighth.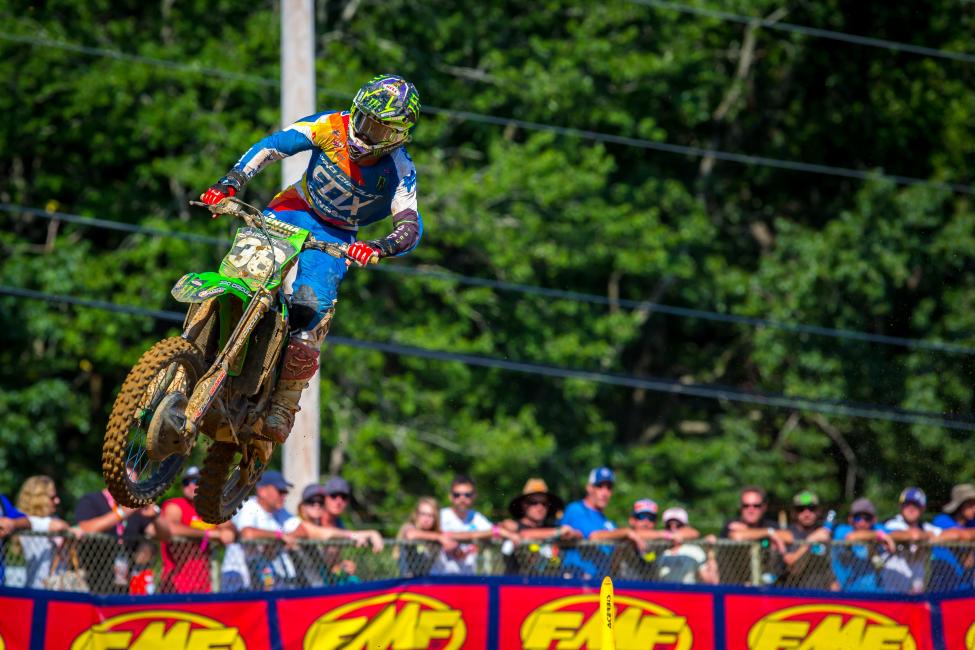 Cianciarulo broke through for a long-awaited first career win in the 250 Class.
– MX Sports Pro Racing / Rich Shepherd
When the 250 Class field powered down the start straight for Moto 2 it was Martin who grabbed his class-leading seventh Motosport.com Holeshot of the season, narrowly edging out McElrath and Osborne. McElrath was able to make his way by Martin early, bringing Osborne along with him into second by the end of the opening lap. Cianciarulo started just behind the lead trio in fourth.
McElrath looked comfortable running a strong pace at the front of the field and kept Osborne at bay, while Martin pushed hard just behind the leaders as Cianciarulo gave chase. As the race wore on, the Husqvarna of Osborne began to inch closer to McElrath's KTM and by Lap 5 the lead pair were separated by just bike lengths.
On Lap 7, Osborne made an aggressive move just before the finish line to block McElrath and take possession of the top spot and control his own championship destiny. On the same lap, Martin made a mistake that sent him to the ground and allowed Cianciarulo to move into third. Cianciarulo continued to move forward and eventually made the move on McElrath to take over second on Lap 12.
Once out front, Osborne went unchallenged and took the checkered flag to capture his class-leading eighth moto win of the season, 1.7 seconds ahead of Cianciarulo, and become 250 Class Champion. McElrath rode well to take his second moto podium finish of the season in third.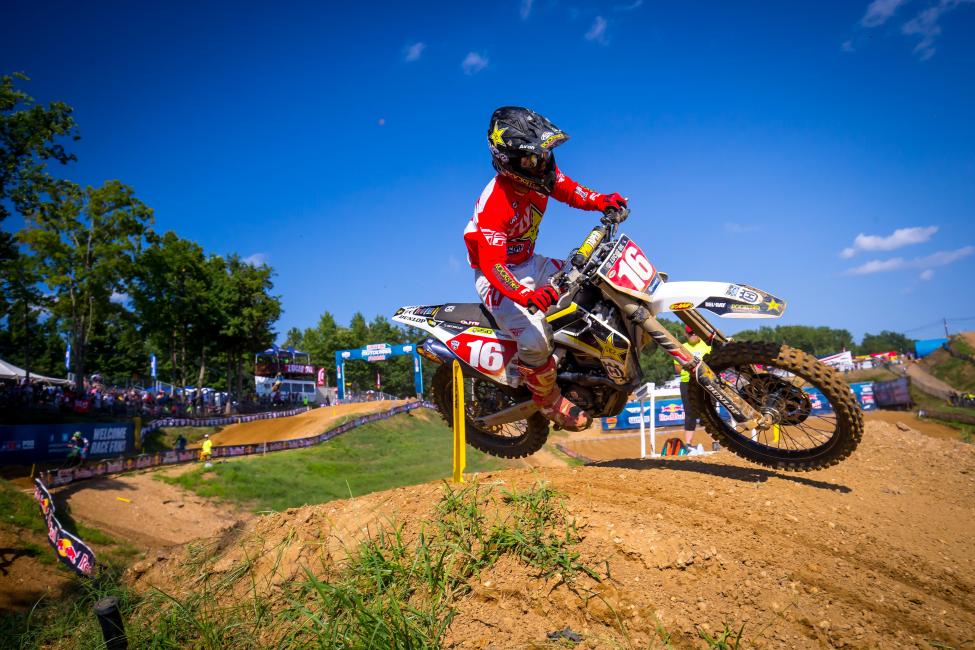 Osborne's second moto win and runner-up finish clinched the 250 Class title.
– MX Sports Pro Racing / Rich Shepherd
Cianciarulo's 2-1 moto scores awarded him with a long awaited first overall victory, which came in his 37th career start in a career that dates back to 2013. He's the 81st different winner in 250 Class history and had just one overall podium finish to his credit during the 2015 season.
"[A win] has been a long time coming, and this is a massive relief," said Cianciarulo. "It was a struggle for me the past couple of weeks and really easy for me to get down on myself since I was so close to a win and blew it a couple of times. In the first moto today I told myself that I would rather pass out from trying so hard before I was willing to let someone pass me. I felt so much weight lifted off of my shoulders when I crossed the line for the win in that first moto. It's taken me longer than I expected to get here with all of my injuries, but in the end it's made it more rewarding and I'm so glad that I never gave up."
Osborne battled through adversity to finish second overall (8-1), while McElrath rounded out the podium in third (4-3).
Osborne's championship gives him a sweep of 250 Class titles in 2017, three months after claiming his first AMA Supercross 250SX Eastern Regional title in May. He's the 28th different champion in 250 Class history, and made his pro debut during the 2006 season. It's also the first ever Lucas Oil Pro Motocross title for Husqvarna, which was a part of the inaugural championship back in 1972.
"This season has been challenging for a few different reasons, and it gave me cold chills when I passed by the mechanics area on the final lap with the team cheering," said Osborne. "The first moto today was tough with going down on the start and I was forced to battle through the field, which seems like it's been a common thing for me this season. I felt good in the second moto and really comfortable once I got into the lead, so I just raced it like it was any other race. It's ironic that I captured my first career win here at Budds Creek last year and now my championship. This is definitely a track that I love."
Martin's fourth-place finish (2-6) also clinched the runner-up spot in the championship standings, while Cianciarulo's victory vaulted him from seventh to third. He holds a six-point lead over teammate Joey Savatgy, who was forced to miss the race following an injury in practice.
The 2017 Lucas Oil Pro Motocross Championship will crown a 450 Class Champion next Saturday with the final round of the season from Ironman Raceway in Crawfordsville, Indiana, on August 26th. First motos of the Christi Hubler Chevrolet Ironman National can be seen live on MAVTV at 10 a.m. PT / 1 p.m. ET. Broadcast coverage of the second motos will air via tape delay on NBC Sports Network at 2 p.m. PT / 5 p.m. ET.
Words: MX Sports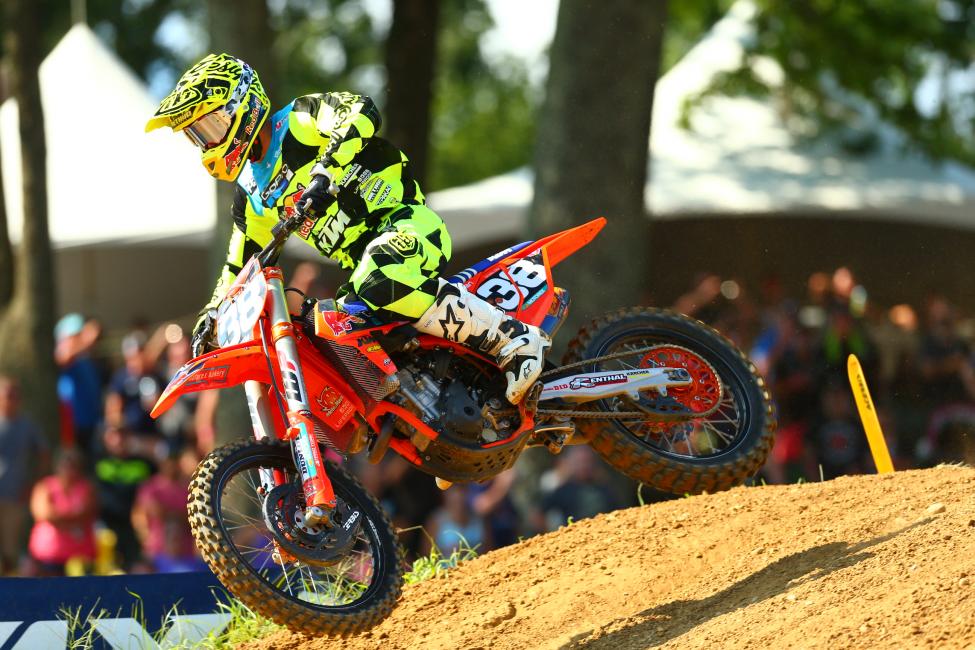 McElrath made his first trip to the podium this season in third.
– MX Sports Pro Racing / Jeff Kardas
Results
Lucas Oil Pro Motocross Championship
GEICO Motorcycle Budds Creek National
Budds Creek Motocross Park – Mechanicsville, Maryland
August 19, 2017
450 Class Overall Results (Moto Finish)
Justin Bogle, Cushing, Okla., Suzuki (1-3)
Marvin Musquin, La Reole, France, KTM (2-4)
Eli Tomac, Cortez, Colo., Kawasaki (7-1)
Blake Baggett, Grand Terrace, Calif., KTM (5-2)
Cole Seely, Newbury Park, Calif., Honda (4-8)
Weston Peick, Wildomar, Calif., Suzuki (8-6)
Cooper Webb, Morehead City, N.C., Yamaha (9-7)
Matt Bisceglia, Tualatin, Ore., Suzuki (6-10)
Christian Craig, Corona, Calif., Honda (10-9)
Dean Wilson, Glasgow, Scotland, Husqvarna (16-5)
450 Class Championship Standings
Eli Tomac, Cortez, Colo., Kawasaki – 439
Blake Baggett, Grand Terrace, Calif., KTM – 411
Marvin Musquin, La Reole, France, KTM – 409
Dean Wilson, Glasgow, Scotland, Husqvarna – 320
Cole Seely, Newbury Park, Calif., Honda – 294
Justin Bogle, Cushing, Okla., Suzuki – 286
Martin Davalos, Quito, Ecuador, Husqvarna – 263
Weston Peick, Wildomar, Calif., Suzuki – 241
Cooper Webb, Morehead City, N.C., Yamaha – 237
Jason Anderson, Edgewood, N.M., Husqvarna – 216
250 Class Overall Results (Moto Finish)
Adam Cianciarulo, Port Orange, Fla., Kawasaki (1-2)
Zach Osborne, Abingdon, Va., Husqvarna (8-1)
Shane McElrath, Canton, N.C., KTM (4-3)
Jeremy Martin, Millville, Minn., Honda (2-6)
Aaron Plessinger, Hamilton, Ohio, Yamaha (5-4)
RJ Hampshire, Hudson, Fla., Honda (3-7)
Colt Nichols, Muskogee, Okla., Yamaha (7-5)
Chase Sexton, La Moille, Ill., Honda (9-9)
Kyle Cunningham, Willow Park, Texas, Suzuki (6-12)
Mitchell Harrison, Brighton, Mich., Yamaha (11-10)
250 Class Championship Standings
Zach Osborne, Abingdon, Va., Husqvarna – 451
Jeremy Martin, Millville, Minn., Honda – 387
Adam Cianciarulo, Port Orange, Fla., Kawasaki – 330
Joey Savatgy, Thomasville, Ga., Kawasaki – 324
Aaron Plessinger, Hamilton, Ohio, Yamaha – 319
Dylan Ferrandis, Avignon, France, Yamaha – 305
Alex Martin, Millville, Minn., KTM – 296
Colt Nichols, Muskogee, Okla., Yamaha – 265
Mitchell Harrison, Brighton, Mich., Yamaha – 250
Shane McElrath, Canton, N.C., KTM – 248