Geerts and Watson on a strong day in Latvia
The Monster Energy Kemea Yamaha Team had a great day in Kegums, Latvia. Jago Geerts mounted the podium for the third consecutive time, after finishing second (2+2) in round nine of the FIM World Championship. With his fourth place (4+4) Ben Watson equalled his best result of the season.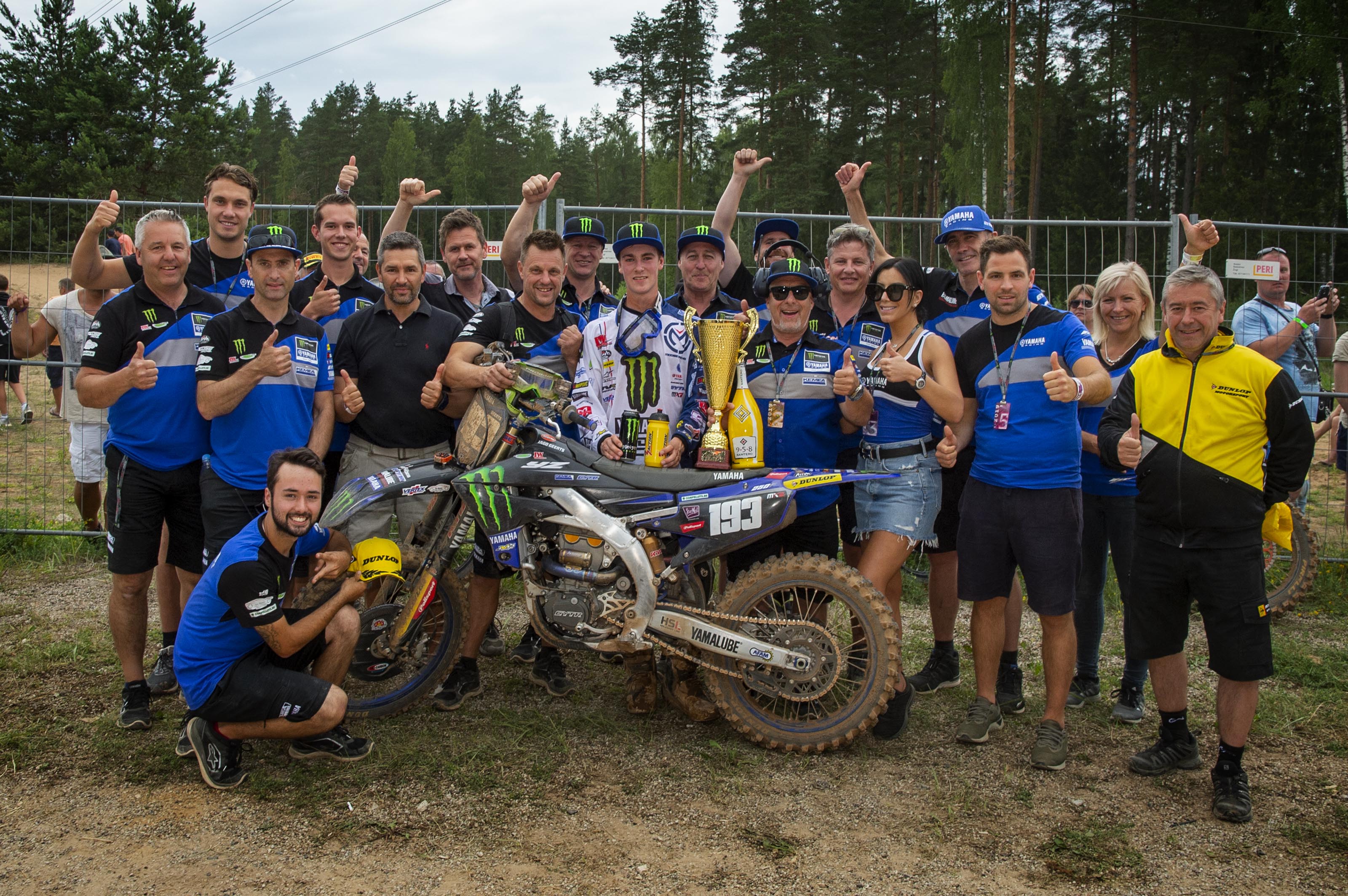 The Monster Energy Kemea Yamaha Team celebrating The qualifying race on Saturday didn't go as planned for Geerts. The Belgian, who enjoys riding on the sandy and technical track, couldn't avoid a fallen rider in front of him in and went down in the first corner. The teenager had to come back from dead last and managed to finish 11th after some smooth passes.
Meanwhile, teammate Watson took a good start (around fifth) and quickly moved up to third place after passing Vialle and Boisrame. The Brit controlled the rest of the race in third position, which gave him a nice gate pick on Sunday.
With Watson in fifth and Geerts in seventh position both Monster Energy Kemea Yamaha riders got out well of the gate in the first race. Ben quickly moved up to third place, closely followed by Jago. The Belgian took over the third place in the fourth lap and started his hunt for Olsen. The teenager gradually closed the gap on the Danish rider and made a decisive move four laps from the end, finishing second behind Prado. Watson withstood several attacks from Jacobi and ended up in 4th place.
The second race was kind of a carbon copy of the first one. Watson took another good start and finished fourth again after a superb pass on Sterry. Meanwhile, Geerts showed his brilliant skills in the sand again by moving up from 11th to 2nd place. And again he finished it off with another late move on Olsen.
Geerts is still third in the championship, with a bonus of 50 points on Jacobi. Watson moved up from seventh into fifth place, only five points behind the German.
#193 Jago Geerts
2nd overall
"That crash in the qualifying race on Saturday ruined a lot. I was only 11th at the gate. A bit unfair, because it was impossible to get a great start from that position. Anyway, my starts were still okay, but I had to work hard to get that second place in both races. Of course I'm dreaming about a Grand Prix victory, but it's certainly not an obsession. My time will come, sooner or later. Till then, I want to continue my podium streak."
#919 Ben Watson
4th overall
"Finally, I had two decent starts. That made my job a lot easier. I'm pretty happy with this result. My pace is not yet the same of the top riders, but the guys behind me couldn't match my pace. So, I was riding my own race in both heats. Slowly, I'm feeling like my old self again. This is a solid result. A result, I can build on for the upcoming races. Also imporant: I made a nice step forward in the championship standing."
Marnicq Bervoets
Team Manager
"I'm proud of both riders. Geerts showed his talent again in both races. He was riding fast, smart and aggressive at the same time. Of course we also want to win. Not easy with a competitor named Prado, but also not impossible. We will get our chances, but we don't need to rush things. I'm also really happy for Watson. Ben is coming through a difficult period, but is almost back to his best level. His confidence got a boost after the French GP. I'm expecting him on the podium pretty soon."
Words: Kemea Yamaha Pics Bavo